Human-Animal Hybrid
Name:
Tsurī Burādo
Age:
17
Appearance: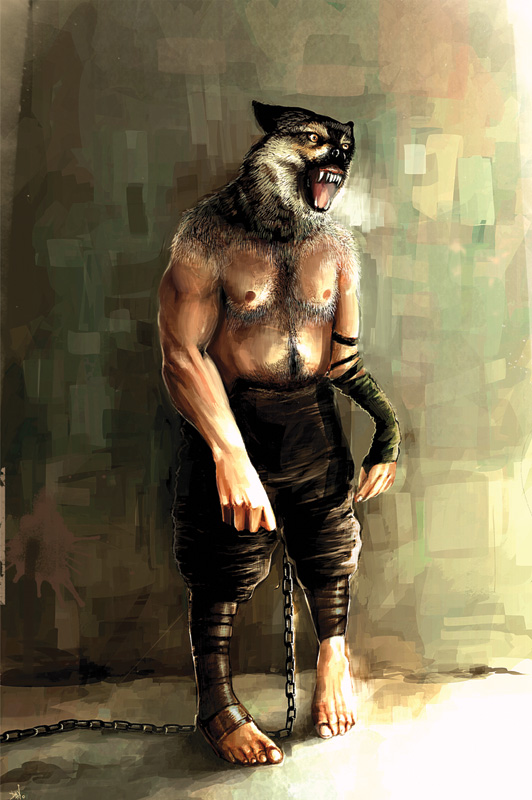 Personality:
Tsuri isn't very serious most of the time. He is a quick thinker, which means he is great at lying. He has lots of strength and brains balance and is extremely brave. Tsuri is great and easy to get along with. One thing to know about Tsuri is his bad temper he is not one to mess with.
Tsuri is very skilled in thieving. He has only lost a few battles and isn't usually afraid. Unless it it a life or death situation. Tsuri loves his old dog that he fused with and is now very dangerous. He has a wicked bite and punch.
Background:
when Tsuri was 2 years old, he was very loud and annoying, as most babies are. by age 5 Tsuri had developed a liking in the art of drawing. he liked to draw anime people, because he thought anime looked cool. He also liked to act like a ninja and run around his house like an awesome ninja. Eventually he took lessons in karate, he had taken it until he was a black belt. He was 14 when he got it.
Once the war started, his whole life changed, and when the bomb was dropped he fused with his dog Darashinai. He loved the dog more then anything. He was an only child, but his dead hated the dog, and his dad died from the bomb. Him and his mother were the only people left in his family. But his mother had run away from him because she got scared from the fuse between Tsuri and Darashinai. So now Tsuri is alone, except for his dog. The only problem was how they were fused, so they couldnt play.
After the war Tsuri was incredibly lonely. His only friend alive was inside of him. He had never felt this bad in his life. One day he met up with a young Theive named Dorobō. The thieve had taught Tsuri great thieving tactics and easy balance and how to be more quite then a mouse. He was now a very skilled thief.
Tsuni and Dorobo traveled far together. They went through Egypt Russia and Canada. Eventually they knew they would have to part. Dorobo was on a search for China. That was his home town, the only problem was he didnt know his way there. So Tsuri helped him on his search for his hometown.
Dorobo also helped Tsuni out on his strength. Now Tsuni was strong enough to ram a cliff (a BIG cliff) with his fist and break it into pieces. Tsuni was happy having a friend to travel with but there was one problem.. After awhile of walking they ended up on the outer part of Australia. when they got there, something speedy ran by. It rammed into Dorobo and knocked him off the side of a huge edge. Dorobo was murdered. Tsuni then sped after the speedy figure with his speed that Dorobo taught him. But it was to late he got away, and thats where we are today..
Animalistic Traits:
Dog looking appearance, Enhanced hearing, speed, sight, strength and combat skills.
Original Animal:
Dog
Starter weapon:
Dagger(With a blood stained blade)
Roleplay Sample:
Tsuri, was walking along in the woods, near Canada, when he heard some footsteps, He immediately took out his dagger..."Show Yourself" said Tsuri, and then a figure started walking out of the trees, it was a fox hybrid.... Tsuri started running toward the figure, and stabbed it in the leg, and then Tsuri jumped and did a kicking back flip, to the mysterious hybrids head. Tsuri grabbed his dagger and started stabbing the other hybrids head rapidly, it killed the hybrid, and then Tsuri started walking away like nothing ever happened..............