Human-Animal Hybrid
Name:
Bitoru
Age:
34
Appearance: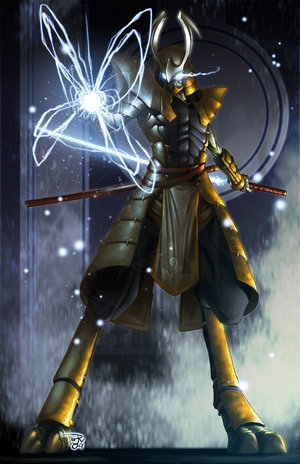 (Ignore The Sword, It Is Meant To Be a Staff)
Personality:
bitoru is always really hungry. He is a cannible(YEAH THATS RIGHT< HE LIKES TO EAT PEOPLE) he mostly loves to eat really big people, but as long as they have a little meat on them bitoru will eat them if you get him mad, or if he is just plain hungry(Seeing as he basically always is).
bitoru likes to fight merely because he is really strong, and he can take quite a beating without actually being injured. bitoru also loves beetles, he had a pet beatle before the war that he named Tyroshu... bitoru would always feed hsi pet beedle, and sometimes bitoru would just sit down and watch his pet beedle for a couple of hours, but now that the bomb has been droped due to the war things of changed between bitoru and Tyroshu
Background:
Bitoru was from a poor family, that had barely any food, his parents would only spend about 10$ on food when they got many, and if they got any extra money they would spend it on Heroin and Cocaine, because his parents were drug addicts and they were high most of the time, and when they were not high, Bitoru's parents would be fighting.....
The fighting between Bitoru's parents became so bad, it eventually lead to his father killing his mother, when his father did kill Bitoru's mother, Bitoru was so sad and mad, but he couldnt do anything to his father, so he ended up calling the cops, and Bitoru's father ended up going to jail.
Bitoru ended up living in the streets, he was very lonely, but one day while Bitoru was walking in the streets, he found this guy that used to be a scientist, that would try to take DNA from a beetle and put it into a Human to make their DNA combine and make a beetle/human sort of thing....
The cops ended up finding Bitoru in the streets, and then they put him in a foster home, His foster parents were really weird... but his foster parents let Bitoru get a pet beedle he named it Tyroshu. after a couple of weeks with his foster parents, Bitoru started to like them, but then his foster parents went on a 4 week trip and left Bitoru behind. While his foster parents were gone, a war had started and things get unusual....
After about 2 weeks of Bitoru being by himself, something weird happened, Bitoru was sitting beside his pet Beetle, but then Bitoru fell asleep, and the beetles cage was left open... His pet beedle Tyroshu walked out of the cage and onto Bitoru's back, but then Bitoru awoke to a loud BOOM and then everything in the house shook, and Bitoru fainted..... A couple hours later Bitoru woke up and he looked around, everything was destroyed around him, but that didnt really bother Bitoru, what bothered him was that he couldnt find his pet beetle, but then he Bitoru noticed something, he had horn like things on his head and he could hear things better... Bitoru didnt know what was going on, but Bitoru decided to go for a walk and try to figure things out...... after a couple hours of walking he had seen some people that looked like they were part human and part animal, and one of the people het had seen told Bitoru that a bomb was droped and it caused humans to fuse with animals or insects.... And that was one Bitoru realised that he had fused with his pet beetle......After a couple of weeks in his new body, bitoru decided to change his name to the Beetle of Thunder
Animalistic Traits:
Horn like things, ehannced hearing, strenght, speed...
Original Animal:
Rhinocerous Beetle
Starter weapon:
Wooden Staff(Amayah said i could put this as his weapon)....
Roleplay Sample:
Get a Job, Slash life and stop asking for RP samples...AKA No Because No....